Frequently Asked Questions
Where is the site located?
Caledon Station is located in the hamlet of Macville in the Town of Caledon, bounded by Humber Station Road in the east, King Street in the south, the Gore Road in the west – with the CP Railway running along its eastern edge.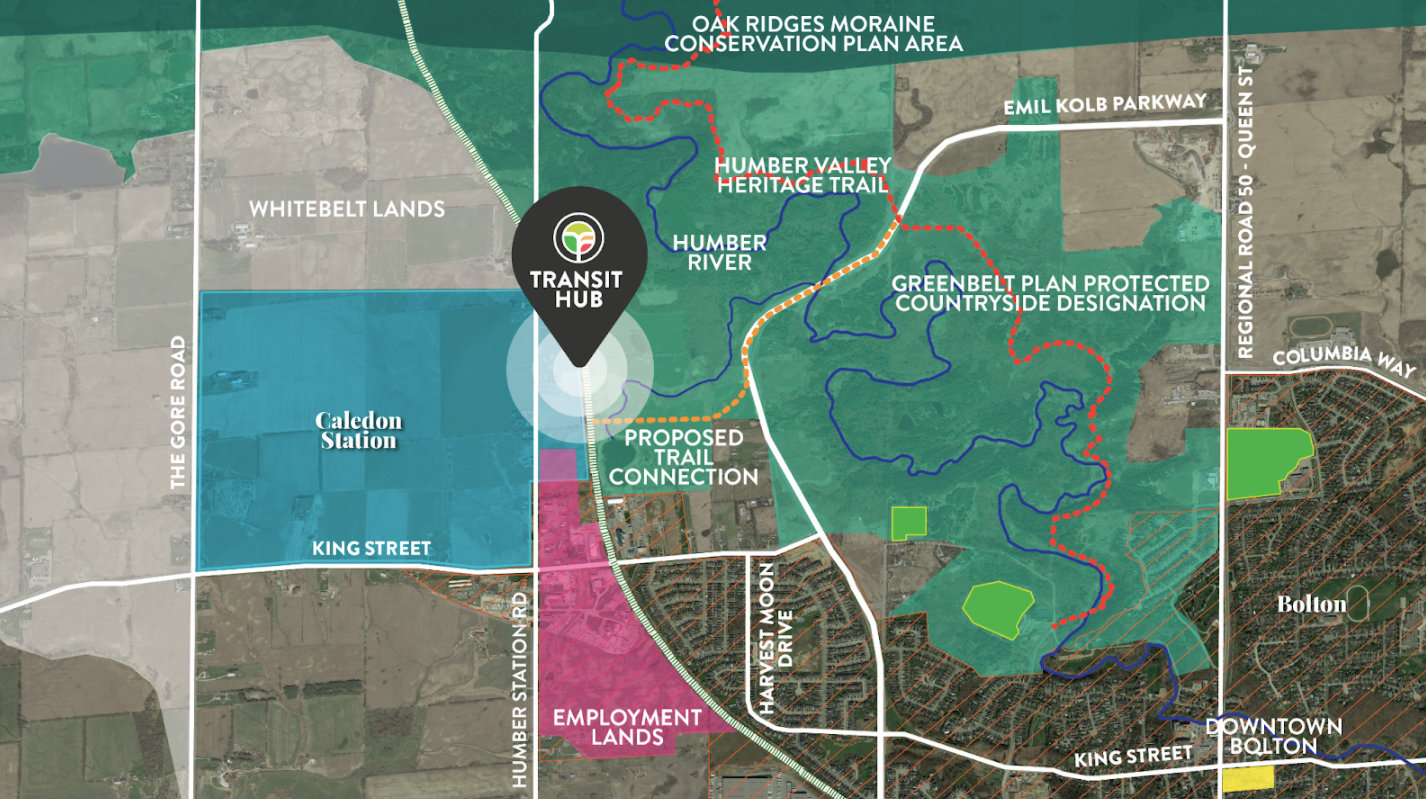 What is Caledon Station?
Caledon Station is a new community defined by nature and designed for neighbourhood. Master planned with a mix of uses, this community will connect residents to over 75 acres of parks, ponds, trails and cycle-friendly pathways – all anchored by a dynamic hub with shops, restaurants, workplaces, and the proposed Caledon GO Station. The vision is to create a "complete community" lifestyle where places to dine and shop, parks and programming, employment, community services and amenities are at your doorstep.
Is Caledon getting a new GO Station?
Caledon Station has been identified and recognized by the Province for a proposed GO Station and we are currently in discussions with Metrolinx, the Town of Caledon and the Region of Peel to realize the proposed Caledon GO Station. Caledon Station will be a catalyst for Transit Oriented Development by planning and designing for a community, in tandem with the proposed GO station, that is pedestrian and cycle-friendly with housing in close proximity to transit, jobs, amenities, and services. You can learn more about this by reading our feature article on the benefits of Transit Oriented Development and how it will improve quality of life for residents of today and tomorrow: https://engage.letsgocaledon.ca/transit-and-future-readiness
When will the proposed Caledon GO Station be in service?
MTO and Metrolinx staff have recently been in discussions with many municipalities, including Caledon, to develop the Greater Golden Horseshoe Transportation Plan based on the recent 2051 growth projections in the Province's Growth Plan. This will in turn have an impact on Metrolinx's Regional Transportation Plan, which we hope will return the proposed Caledon GO Station back to its original time frame of 2025 and deliver peak-hour Caledon GO service no later than 2031.
What does a proposed GO Station mean for Caledon?
The proposed Caledon GO Station is imperative to the Town of Caledon's future economic success, to supporting anticipated growth targets, and improving quality of life for residents for years to come. This proposed GO station is directly adjacent to Provincially Significant Employment Zone 15, and will create a thriving ecosystem for businesses, job creation, infrastructure advancements, and investment to drive economic impact for the Peel and York Regions, and beyond. It will also bridge other Provincially Significant Employment Zones to open up access to employment opportunities across the GTA.
Proposing to bring GO Rail Service to Caledon is essential to supporting population and job growth projections, which anticipates an increase of 700,000+ people and 250,000+ jobs by 2051 in the Region of Peel alone. Combined, the Regions of Peel and York expect to see a population growth of over 1.4 million residents and 540,000 jobs by 2051.
The proposed Caledon GO Station will provide a more accessible and sustainable mode of transportation to create greater connectivity cross-regionally, reduce pollution and CO2 emissions, and help decrease road congestion and impact on road infrastructure by encouraging alternative modes of transportation. The proposed Caledon GO Station will unlock the mobility potential of one of the fastest growing areas in the GTA, connecting to the UP Express, Kitchener GO Line, Kipling GO Line, Eglinton Crosstown LRT, TTC, and the future Finch West LRT.
The proposed Caledon GO Station will support a more sustainable approach to tourism, allowing for visitors to access all that Caledon has to offer via the GO Train, or "Rails to Trails" route. The proposed GO train will attract new customers to support local businesses, and establish Caledon as a new "zoom town", made for the remote workforce commuter. It will help to attract talent, new industries, and new employers to strengthen the Region's workforce and business base.
What other kinds of transportation options will be available at Caledon Station?
Caledon Station will be a transit-integrated community anchored by the proposed Caledon GO Station and a dynamic transit hub balancing pedestrian pathways and cycling routes with vehicle mobility throughout the area. It is designed as a connected, walkable, and multimodal community that aims to reduce car reliance through innovative approaches to mobility such as an autonomous vehicle route, car sharing opportunities, bike share facilities for renting bikes when needed, with a network of streets that support safety for pedestrians, cyclists, and drivers.
What kinds of amenities are planned for this community?
Caledon Station is carefully planned and designed with a mix of uses to deliver much-needed community services and infrastructure to meet the needs of a growing Caledon. This includes two schools, a library, and a community space housed within a restored heritage building for events, classes & local programming. Our curation of retail will look to bring wellness and medical based services that will serve the local residents and the employment district population to create a complete community. We look forward to working with stakeholders to program amenities and infrastructure to help address existing needs as well as properly support and service the population of this new community.
Will there be parks and green space?
Caledon Station will feature over 75 acres of parks, ponds and pathways that will connect to the surrounding network of trails in the Caledon area, such as the Humber Valley Heritage Trail. The existing natural features within Caledon Station are an essential component of the community's character and the Region's ecological system. A key feature of the plan is to protect and enhance existing wetlands and wildlife corridors and expand upon the system with introduced open spaces to promote a close-to-nature lifestyle and provide greater health and wellbeing.
Are you building affordable housing?
Caledon Station aims to bring crucially needed housing options to the area by providing a diverse mix of housing types and unit sizes to support the Town of Caledon's growing population, including affordable housing opportunities. We will be working closely with the Region of Peel and Peel Living throughout the planning process for the provision of affordable housing.
This will be a complete community where amenities are walkable, including health facilities, daily services, parks, grocery stores, and transit allowing seniors to age in place by providing a lifestyle of convenience and connection.
Will there be new retail and employment opportunities?
Caledon Station will be located adjacent to Provincially Significant Employment Zone 15 and will integrate a mix of office, institutional, and innovation uses that will complement the residential and retail elements located at "The Hub"; the employment district will strongly benefit from its proximity to the proposed Caledon GO Station and adjacent amenities. Caledon Station, with its mix of uses, will stimulate economic prosperity with new jobs, a population to shop and support retail, and an ecosystem for businesses to thrive within.
The Hub will be an "activity zone" where the community can gather, connect, eat, and shop, providing access to stores, restaurants, cafes, and patios to enjoy.
This will be a high-quality neighbourhood where people can work, walk and live. Design details and public art will celebrate local history and Caledon's heritage to remind people where they are. New retail opportunities will be added to the area, such as unique shops, galleries featuring local artists, a new brew pub or cider distillery, or a wood fired pizza spot.
How will the heritage of Caledon be preserved? What is happening to the two heritage buildings on the site?
The project will include heritage elements and a central main street with distinct character that celebrates the area's history and aligns with the character of nearby existing hamlets and neighbourhoods. Heritage Square is intended to serve the entire community, its park primarily for resting, relaxing, or reading a book with features such as seating and benches, outdoor performance space, and common green area that will provide space for community gatherings and public art. This park will be the venue for integrating significant heritage resources, by functionally re-purposing a Macville heritage home as a form of commemoration to the history of the area.
Through the application, there has been a heritage review completed on both existing 'Listed' heritage houses – the late 19th century brick Newlove farmhouse at 14275 The Gore Road and the McDougall House located at 7640 King Street. The proposal will ensure each will be restored and repurposed either as a community centre with local programming to promote livability such as health and wellness workshops, fitness classes, and life-long learning courses, or lived in as residential, a move that will bring more prominence and awareness to the area's history.
How will sustainable technologies be integrated into the community?
Caledon Station is committed to supporting the Region's environmental targets related to wildlife habitat, community diversity and water management, and will integrate sustainable design features such as low impact development and energy reduction solutions to support the vision for a future-ready, resilient community and improve quality of life for residents, employees and visitors.
Smart and sustainable community technologies that will be considered are district energy, an autonomous shuttle route to complement the transit hub, electric vehicle charging stations, high performance internet and free public WiFi, device charging stations, digital public art and smart municipal infrastructure such as intelligent synching for traffic signals, real time navigation and smart parking. New technologies and solutions, such as district energy, will be investigated with the Town of Caledon and utility companies to determine their viability at Caledon Station.
How are you engaging the community throughout the planning process?
We are engaging in a highly collaborative, Caledon-led planning process for the community and encourage feedback and input from the Town, residents and businesses. Our approach to community engagement ensures an inclusive, accessible and collaborative experience for all stakeholders. Our outreach tactics cast a wide net to reach a wider demographic, including hard to reach audiences to ensure all voices can be heard. This is a crucial part of the development process, and we believe public outreach and engagement that includes a diverse range of perspectives is fundamental to the creation of thriving communities.
If you would like to get involved, visit our online platform at engage.letsgocaledon.ca; or sign up to receive email communications on our website.
Who is on the Caledon Station project team?
Caledon Community Partners is a group of community builders – Argo Land Corporation, Fieldgate Developments, Greenpark Group, Mosaik Homes, Paradise Developments, TACC Developments – who are working with the Town of Caledon and the community to advance a vision that celebrates all the things that make Caledon an incredible place to live. We've assembled a skilled team of experts to deliver the very best at Caledon Station, including: Glen Schnarr and Associates Inc., NAK Design Strategies, Q4 Architects Inc., Looney Ricks Kiss (LRK), BA Group, Cicada Design, Lux 9 Inc., Gerrard Design, Urbantech Consulting, Beacon Environmental, DS Consultants LTD., Urbanmetrics Inc., Valcoustics Canada Ltd., Archaeological Services Inc. (ASI), and Golder Associates.